SpecTopics: The ES-1 Standard and Metal Roof Edges
The topic of metal roof edges is one of high importance when it comes to the performance of a low-slope roof. In an extreme weather event with high winds, the edge of a low-slope roof is the likely failure of the system. Factory Mutual, a leading building insurance company, attributes 80% or more of all roof failures directly to failure of the roof edge.
The debate about shop-fabricated versus pre-manufactured roof edgings continued for years, until the adoption of the ANSI/SPRI ES-1 standard into the International Building Code (IBC). ES-1, the Wind Design Standard for Edge Systems Used with Low-Slope Roofing Systems, is comprised of three pull-off tests (two for fascia and one for coping) and is based on the American Society of Civil Engineers' document ASCE-7 – Minimum Design Loads for Buildings and Other Structures.
---
Test Method RE-1 (Fascia)
measures how well the edge secures the perimeter on ballasted and mechanically attached membranes.
- A static test with a 100 lb. load every foot.
- Membrane is pulled at a 45-degree angle to the roof deck to simulate a billowing membrane.
- Termination must withstand a minimum force of 100 lbs. per foot.
- Failure is defined as any event that allows the membrane to come free of the edge termination or allows the termination to come free.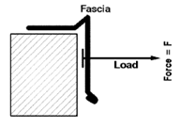 Test Method RE-2 (Fascia)
is a pull-off test for the metal edge flashing.
- Tests for wind load on the face dimension of the flashing system.
- Determines maximum load at failure.
- Failure is the loss of securement of any component of the roof edge system.

Test Method RE-3 (Coping)
tests the strength of the metal coping cap to assure it meets or exceeds calculated design wind pressure.
- Tests wind load on both the top and back leg dimensions.
- Simultaneously tests the vertical and horizontal wind gust load coefficient.
- Failure is the loss of securement of any component of the roof edge system.
---
The main reason for the development of ES-1 was to improve the longevity and safety of low-slope commercial roofs and to protect the building owner's investment by reducing the risk of edge failure – and consequentially roof failure. Basically, ES-1 provides formulas for calculating the wind load on edges of low-slope roofs and prescribes methodology for testing and evaluating the ability of edge systems to withstand those loads; as a result, this ensures wind resistance and long-term performance.
Specify ANSI/SPRI ES-1 compliant pre-manufactured roof edge or make sure your shop-fabricated roof edges are produced by an ANSI/SPRI ES-1 compliant shop.
For more information on ANSI/SPRI ES-1, go to the standards page on SPRI's website
here
.
Contact Craig Tyler with questions.